Part 1 is here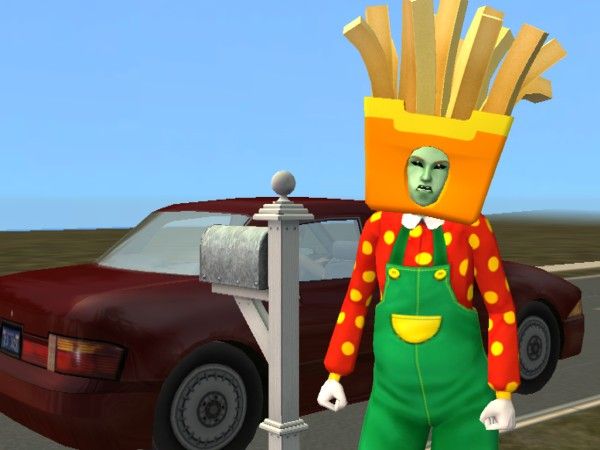 Billy excused himself earlier than he really wanted to for two reasons. The first was that when it came time for Liam to go to work, the carpool that came for him dropped off Riku, who looked so annoyed at being caught wearing a ridiculous mascot costume that Billy had to retreat before he burst out laughing.
The second, more important reason, was that he wanted to be home before Tristan arrived back from work. If anything worse happened than the fight he and Elle had had that morning—which had been less of a fight and more of a one-sided shouting match—he wanted to be there.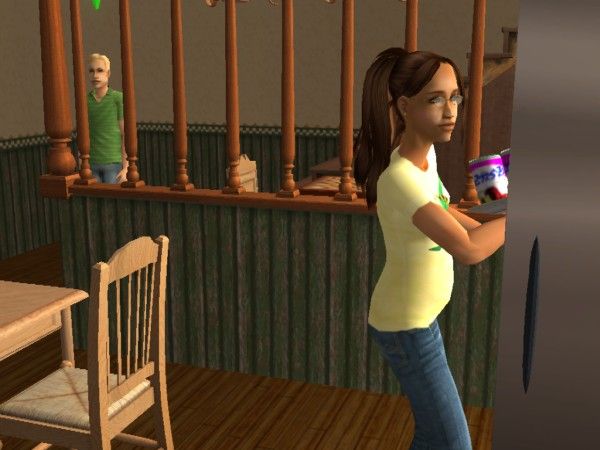 He arrived just as Elle was getting out instant drinks, in preparation for the family coming home. "Hey," she said, smiling. There was no trace of the tears from earlier, but her smile didn't meet her eyes, either. "How's Snow?"
"She's great." Billy sat down at the table. "She says hello."
"Tell her I said hello, too, next time you see her."
"Will do. Hey, question for you. Do you remember meeting a guy named Liam at the playground when you were a teenager?"
Elle glanced at him over her shoulder. "Uh, yes, but how do you know about it? I don't think I ever told you."
"You didn't. I met him today."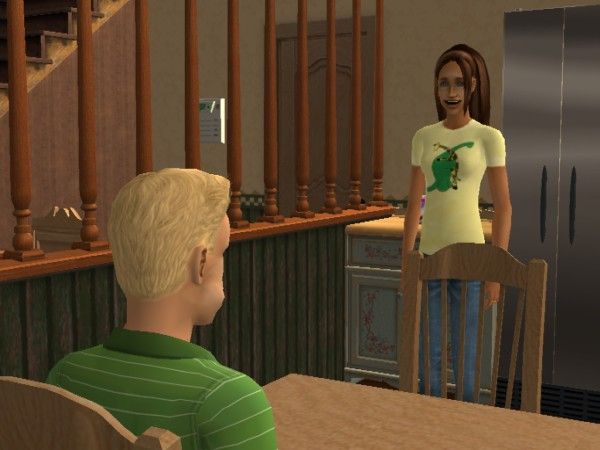 She turned completely at that and stared at him in astonishment as he elaborated: "He's renting a room from Snow and Riku and mentioned that he'd met you. He wants to say hi when you're feeling up to it."
A real smile lit up his sister's face. "I'd love that. Bring him over after work sometime."
"Will do," Billy said, unable to help feeling seriously pleased at that response.
She went back to the instant drinks. "Wow, I can't believe he's here again after all this time. It must have been at least three seasons ago."
"I can't believe you actually
talked
to a strange boy when you were a teen," he teased.
"Some people make it easy," she said, with a shrug. "He was one of them. Sad, though. I'm glad he's okay."
Billy wondered what to make of it. At any rate, it was all the encouragement he needed to follow through and bring Liam home from work with him soon. Maybe interacting with someone who was actually decent might make Elle think twice about how Tristan was treating her.
As if summoned by the thought, footsteps sounded on the stairs just then. Not just one set, though. Tristan appeared first, but Mya and Gabriel were right behind him. Elle flinched at the sight of her husband and kept close to the kitchen counter, not meeting his eyes. It made Billy angry, and he glared at Tristan.
Tristan's expression surprised him, however. There was no anger or impatience on it. In fact, he seemed almost penitent. "Can we talk?" he said quietly.
Elle nodded and followed him out to the balcony.
"I am going to make my rounds," Gabriel told Mya.
She nodded. "Go ahead. Would you mind checking in on Saxon while you're doing it? I think his parents will be busy for a while."
"With pleasure, Mrs. Mya." Gabriel nodded to her and to Billy, then began to clank his way up the stairs.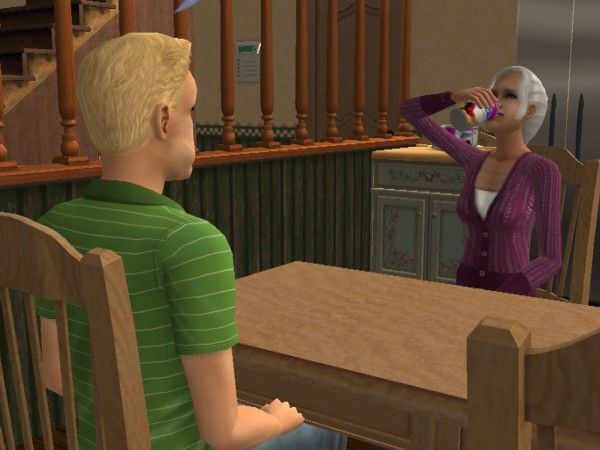 Billy, who had not been left alone with his mother since his teenhood, felt very uncomfortable. He had not forgotten what Snow had said about the previous day's visit, however. "Where's Dad?" he ventured, figuring it would be better to start with a safe question.
Mya took an instant drink and lowered herself into a chair at the table. "He's been at Jon's since noon. He said he'd be home before dark."
He nodded, then cleared his throat. "Snow said you went to see her yesterday."
She glanced at him over the rim of the drink. "Yes, I did."
"Why?"
"I wanted to get to know my future daughter-in-law a little better." She waited for a moment, as if expecting a reply. Billy had no idea what to say to that, so he said nothing. Mya sighed and went on. "Billy, I…I haven't always done the right thing by you and your sisters. Your father and I thought that we were making a better world for you all. We didn't realize…" She laid her instant drink on the table and looked him in the eye. "Especially with you, we didn't understand how much we were alienating you until the damage was done."
Shocked, Billy could only stare at her.
"I barely remember your childhood," she continued. "Jon and Suzy raised you better than we did. Every time I think about that, I feel so ashamed of myself. Then when you became a teen, I expected to get respect and obedience from you that I hadn't earned. I didn't understand that before."
"But—but why
now
?" he stammered.
Mya did not flinch. "I didn't realize how wrong I was until the three of you started coming home to help with the relief. Now…now Azula is stuck somewhere she won't tell us for the foreseeable future, you barely speak to me, and Elle's…" Her voice hitched, but she swallowed and went on bravely. "I don't even know. Somehow I feel like she's even further away than you and Azula. And I don't want that."
"You should have thought of that a long time ago," said Billy. He almost regretted it—he had waited so long to hear his mother say something like this to him, and here she was, doing it—but he could not brush aside a lifetime of bitterness so easily. Both she and Harry had hurt him. No apology or admission of guilt would change that.
"I know that now, but I didn't then. Now all I can do is apologize and beg your forgiveness."
He hesitated. "I don't want to be angry with you anymore," he admitted, after a moment. "I'm not ready to forgive you, but I accept your apology."
Mya nodded. "So," she said briskly, "does that mean I get to come to your wedding?"
Billy had to smile. "Sure."
The door to the balcony opened, and Tristan and Elle walked back in. Elle had been crying again, but she didn't look upset anymore. She was holding Tristan's hand, and while she wasn't smiling, she seemed all right. Billy raised his eyebrows at her, not daring to ask what he wanted to know out loud. She only nodded in reply and glanced up at her husband.
Tristan smiled at her. It was the most genuine smile Billy had ever seen from him. "So," he said, "I guess we're going to be parents again."
"Yeah, we are," Elle agreed.
Billy watched them a moment longer, then turned away. He didn't believe that one short conversation could fix his sister's marriage. It just didn't work that way, and for that matter, he didn't think her marriage was worth fixing.
All the same, he would have liked to be wrong.
---
Elle's second pregnancy turned out to be as hard on her as the first had been. She barely got out of bed long enough to check the job listings and do a bit of playing or toddler training with her son. Even so, she continued to brush off everyone's concern, and claimed that everything would be fine once the baby came.
Because she was feeling so poorly, Billy put off his plans to bring Liam home from work with him. He had other worries, though. He had been hoping for a promotion by the weekend, and didn't get it. It frustrated him a little. He knew that there had to be a reason his uncles were holding off, but he couldn't tell what it was. As badly as he felt about the idea of leaving his sister just then, he was ready to move on. Home was better, after his talk with his mother, but still not a place he wanted to be for the rest of his life.
The only one who really seemed satisfied was Tristan. He waltzed in on the night of Saxon's child birthday with the announcement that Sierra Plains was ready to hold its first mayoral election. "We'll have a Mayor by the beginning of fall," he boasted.
Billy didn't know who else might be interested in running for Mayor. It didn't much matter. Tristan's status as the husband of a Fitzhugh basically guaranteed him the position. "Congratulations," he said, trying to express more sincerity than he felt. The only thing about the news that made him really happy was the idea that Azula might be able to come home very soon.
Elle, however, had more than enough enthusiasm for two. After a very sappy display of affection that Billy considered unnecessary, they gathered with the rest of the family to watch Saxon grow up.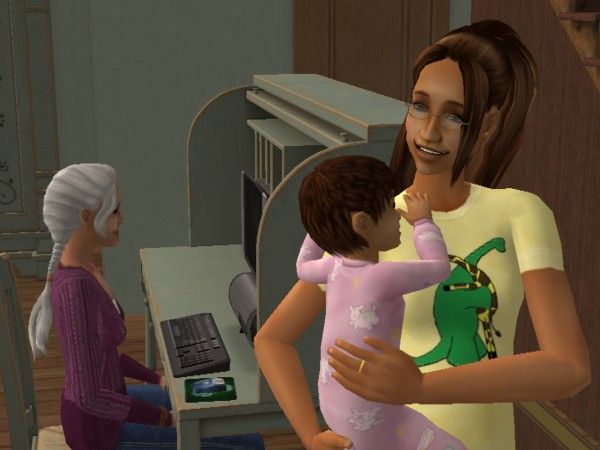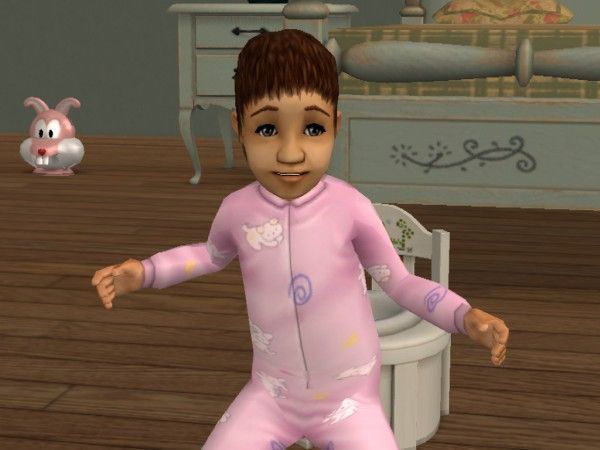 Saxon had been a fairly affectionate toddler, but not a quiet one. Once he learned to speak, he went around repeating almost everything he heard in a quest to learn new words. He also liked throwing things, including his bottles and the rabbit head that had somehow survived five generations of Fitzhugh toddlers. In addition, he had a penchant for banging on walls and floors with his fists at odd hours, in strangely rhythmic patterns.
But he loved all the big people in his life, and they loved him. Billy in particular took quite a bit of pride in his role as the fun uncle.
After changing and making the rounds for hugs, Saxon bounced over to Billy. You're going to be Captain Hero soon, right?" he asked.
Billy grinned. "That's the plan."
"Will you take me on adventures, then?"
"Absolutely. I don't promise flying, though."
"Why
not
?"
Somehow, Billy managed to redirect Saxon's attention away from that topic, and after a few minutes, the little boy hopped off to harass Gabriel instead. Gabriel seemed grateful just to be out of diaper-changing territory for a little while, so Billy smilingly left them to it.
He started up to the third floor with the idea of studying for a while. On the way, however, he passed Tristan and Elle, who were ensconced on the second floor having a conversation in hushed tones. Afraid he might overhear something he would rather not, Billy hurried his pace.
Then Elle's voice rose—not a lot, but enough that he could hear it. "Tristan, please believe me. I'm not keeping any secrets from you. You would know it if she'd told me anything at all."
Billy paused briefly on the top step. If Tristan replied, it was inaudible at that distance. He quickly began moving again and didn't stop until he had reached the roof.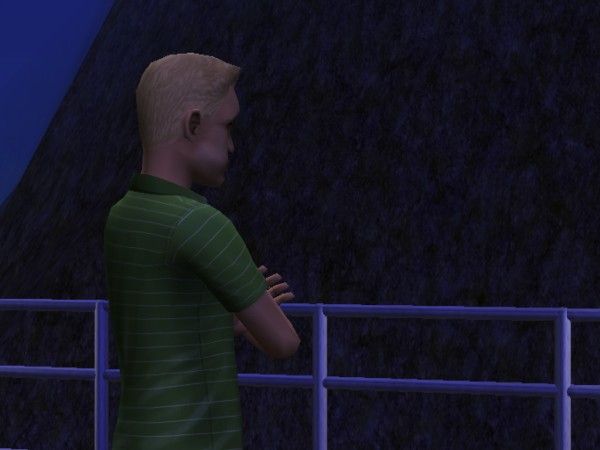 There was not a doubt in his mind that Tristan had been asking about Azula. Why, Billy couldn't have guessed, but he instinctively felt that Tristan couldn't have any good reasons for it. The entire family had accepted the fact that they would not see her until the new government had been established. Elle had repeatedly denied any knowledge of Azula's whereabouts. Why would Tristan push her for news
now
?
Something was wrong. He just knew it.
At the same time, he also knew that there was nothing he could do. Billy had no physical proof of anything. He couldn't even take his suspicions to his sister. Elle hadn't listened to any of his misgivings about Tristan before. If he tried it again, it would only upset her and probably ruin their relationship. He loved Elle, but they had never been as close to each other as they were with Azula.
His parents were also out. Whatever they might do would be equally ineffectual.
Who did that leave? He didn't know very many people he could trust, and hardly anyone who might have the power to do anything.
After another moment's thought, he took out his phone and dialed the first number that came to mind.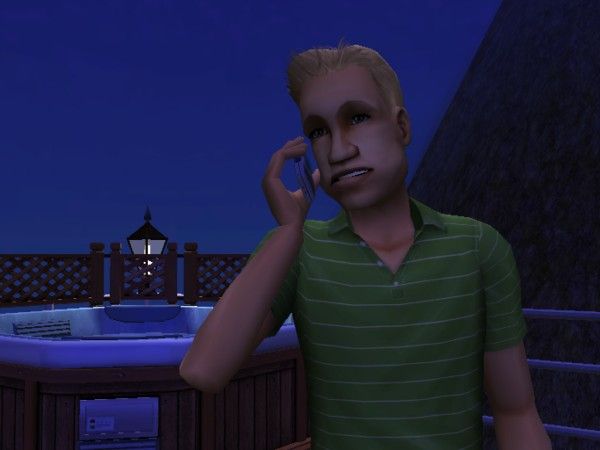 Lex answered on the third ring. "Hello, Billy, what can I do for you?"
"I need to talk to you," Billy said, in a rush. "It's about Elle."
"Is she in earshot?" Lex asked sharply, surprising him.
"No, of course not."
"Billy, voices carry in that house. The walls aren't that thick."
"I'm on the roof. There's no way she can hear me, I promise."
He heard his uncle exhale. "All right, good. Let's talk in person though, just in case. Come over tomorrow morning. I wanted to meet with you anyway."
Billy agreed and hung up. He didn't feel very reassured, though. Something in Lex's voice had changed the second he had mentioned Elle. Anyone else would have asked immediately what was wrong. Billy had to wonder if that meant Lex knew something he didn't.
---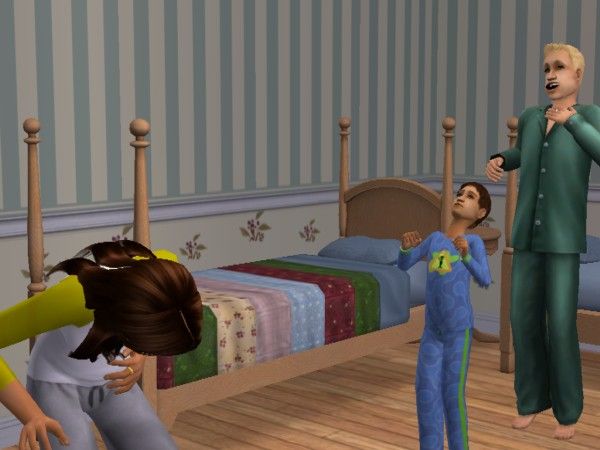 The next morning, he was startled out of a troubled sleep by his sister's cries of pain. "It's okay," she managed, as he rolled out of bed to help her. "It's just the baby! Saxon, honey, don't look so scared, it'll be all right!"
Saxon did seem very afraid, but he only nodded and stuck close to Elle. Billy kept one eye on him, and one on Elle. "You okay?" he asked her.
She nodded. "Where's Tristan?"
Billy looked around. His sister's husband was nowhere in sight.
"I think left already," Saxon said quietly.
Billy frowned. "Did he know you were due today?"
"It doesn't matter," Elle gasped. "He can't miss work—oh,
damn
it—"
"Ellie, you're going to be okay. Just breathe. It's almost over, right? You can do it."
He and Saxon continued to talk as calmly as possible to Elle until at last, the ordeal was over.
"Is it a boy or a girl, Mom?" Saxon asked excitedly.
Elle shot him an exhausted grin. "It's a girl, Saxers, and her name's Cassandra."
He made a face. "That's a big name."
"Tell you what—we can call her Cassie for short."
Saxon considered it for a moment, then nodded his agreement. "That sounds good."
Since it was clear that Elle was wiped and needed to go right back to bed, Billy volunteered to find Cassie a bottle. Saxon followed him up and down the stairs, completely fascinated with his new sister. He looked very disappointed when Billy put her in her crib. "She's as tired as your mom," Billy told him. "We'll see her again when she wakes up, okay?"
Saxon sighed, but had to accept it. "Now what do we do?"
"I have a meeting with Uncle Lex in an hour," Billy said.
"Oh, can I come?"
Billy frowned. It was a Sunday, so of course Saxon didn't have school. Mya and Gabriel, at least, would still be going to the businesses, and Elle would probably be good for very little for the rest of the day. He didn't want to leave his nephew to that. Saxon could not sit in on his meeting, but Lex
did
have two child age granddaughters… "Yeah, why not," he said, smiling. "You can meet some of your cousins."
---
"I think Saxon's just become Idina's new best friend." Lex glanced over at the trio of children, and grinned as Idina merrily pelted Saxon with water balloons. "She loves anyone who'll let her pound them without complaining."
"Then I feel sorry for Kristin," Billy said. He wasn't in a mood to be amused, though. "Thanks again for letting me bring him."
"Not a problem. You mind if we walk instead of going inside?"
Billy had expected that his elderly uncle would want to sit down, but the request didn't surprise him as much as the tone Lex had used. Lex seemed worried about something, and they hadn't even started on Elle yet. "No, not at all."
They turned to walk around the house. "So, as you've probably noticed," Lex began, "your uncle Gordon and I aren't getting any younger."
"You could have fooled me there," Billy said, as lightly as he could. He knew that Lex and Gordon were quite a bit older than his own parents, and while both seemed in good shape, he couldn't help worrying about them.
Lex laughed. "That's bad flattery, but I'll take it. Anyway, we talked last night and we've decided it's time to pass the baton. I submitted my resignation this morning." He looked at Billy. "And I've told the office to appoint you Captain Hero in my place."
"Really?"
"Come on, Billy, you can't say you're surprised. This is what all three of us were planning on."
"Well, yeah, but I didn't think you'd resign. I never wanted to replace you."
"Oh, it was going to happen pretty soon regardless. The only reason I've waited this long was to make sure that someone I could trust got the suit after me. It won't be long until we've got a centralized government, and our law enforcement will finally have some real clout." A flash of pain skittered across his face. "And I don't know what's going to happen then. Especially since I doubt we'll ever get rid of Raikov."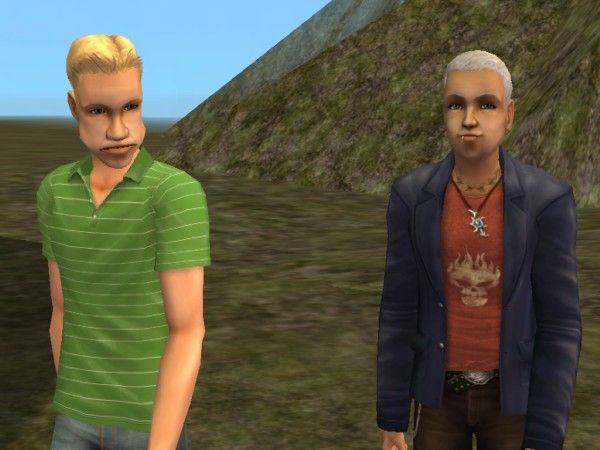 Billy frowned at the ground for a moment. "Well, I'm…honored. That you and Uncle Gordon trust me so much."
"There's no one better," said Lex. "And I have faith that you'll continue to do your best and bring in other people who will do the same. You'll probably want a partner eventually, but I'll leave that to your judgment."
"Uncle Gordon doesn't have anybody in mind?"
"We had hoped to have someone by now, but our plans fell through."
Billy nodded. "I'll try my best to pick the right person."
"I know you will."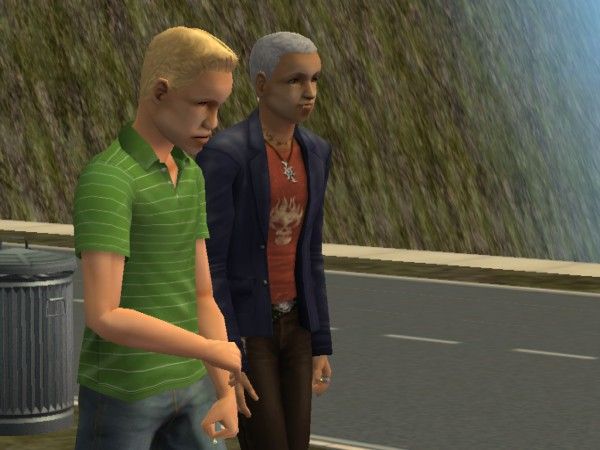 They walked a little further in silence. Billy knew he should be happier. His promotion meant he could move out and get married. He
was
excited to have achieved his goal and was eager to get started, but Lex's resignation was still bothering him. He hadn't forgotten his sister, either.
There was no good way to lead into it. He steeled himself to just ask. "About Elle," he began.
"Right, you said you needed to talk. What happened?"
Billy told Lex what he had overheard. "Why would he push her like that? He knows as well as the rest of us that Elle doesn't know anything new. She'd have said if she did."
Lex's eyebrows knit. "I was afraid of that," he said quietly.
"Afraid of what? What do you know that I don't?"
"Nothing concrete, but I've had some suspicions since before Raikov sent out that military patrol. The General wants to indict Azula, but he doesn't have a lot of time to do it. Once we've got a Mayor, we'll be able to establish relations with countries like Takemizu and international travel will start up again."
"But if Tristan becomes Mayor—"
"Billy, we don't know anything for sure." Lex stopped walking, turned, and looked him in the eye. "For that matter, Tristan has broken no law, and it's entirely possible that the only reason he spoke with Elle was to see whether they could get hold of Azula and give her the all clear once it's safe."
"You don't really think that's the reason, do you? He couldn't care less about her! He hasn't even been treating Elle like she's worth a damn, and she's his
wife
!"
For the first time, Lex seemed surprised. "He hasn't?"
"No! He doesn't care about anything outside the office. Elle's been exhausted and sick ever since I got home and he can't even spare two seconds to be concerned. He even yelled at her when she found out she was pregnant with Cassie."
"How long has this been going on?"
"He's
always
been an asshole, Uncle Lex. I told her not to marry him, but she didn't listen to me, and no one else seemed to see it. I was hoping I was wrong, but it's just gotten worse."
"Harry and Mya didn't…"
"Oh, come on, you know how they are. I mean…they know she's not well, they'd have to be blind not to, and I think Mom at least knows something's not right, but…and even if they did, what can they do? If Elle wouldn't listen to me, do you really think she'd listen to them after everything that's happened?"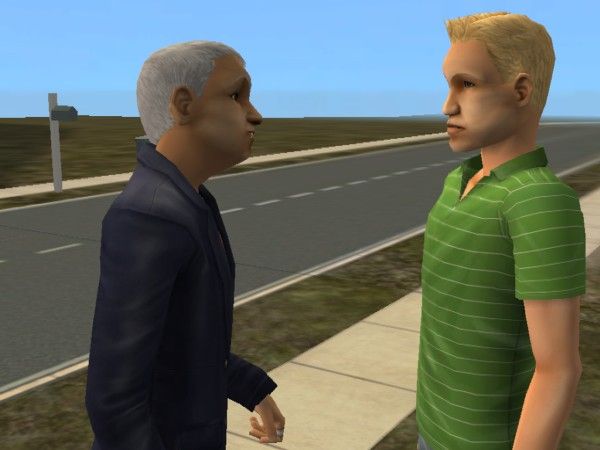 "I see." Lex looked troubled, which gratified Billy just a little. At least someone besides Snow was finally taking him seriously. "Well. We suspected Tristan might have been working with Raikov, but not this."
"You and Uncle Gordon did?"
He hesitated. "Billy, when are you going to move out?"
"What does that have to do with anything?"
"Just answer the question."
Billy sighed in frustration. "I don't know, tomorrow I guess. Maybe today if Elle doesn't need me. Why?"
"I want you to do me a favor. Move out, get settled, have your wedding. Don't say a word about any of this to anyone and try to put it out of your mind for now. Then come see me."
"What for?"
His uncle smiled slightly. "There are some people I'd like you to meet."
---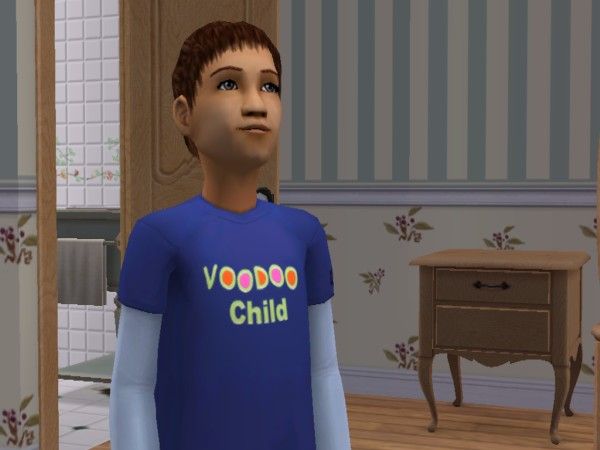 Author's Note
HOLY CRAP IS THIS AN UPDATE?
Yeah, yeah it is. Hi, guys :D And happy Apocaversary to meeeeee! On this day in…2008… *sob* Actually, the real Apocaversary was yesterday, but trying to get it ready for then was pushing it. Today still counts! I didn't even think I'd have this update ready by today, but the writing ended up going so quickly I thought I might as well aim for it. It's nice to be able to move the story along. I am not saying I'll be done by the end of the year, but I'd like to be, and I'll be using the rest of March to work on Episode 24.
If you've read this far you have no doubt noticed that this update is not in slideshow format. That's because I've decided to reduce the amount of pictures from this point forward. It's my own fault, really, since I took on a rather ambitious plot in terms of filming and then played two episodes ahead of where I'd written (in game, I've reached the beginning of episode 25), and the idea of staging just makes me tired. I considered abandoning pictures entirely and decided I couldn't. This is the compromise—half the pictures, same amount of text. What's important to me at this point is that I finish the challenge and give the story an ending. I hope you'll all still enjoy the story despite the change in format.
Meanwhile! A lift happened this episode! Billy took care of Law Enforcement for us, which means that we can now have fire and burglar alarms, call the cops for robberies and missing teens, and leave the house without having to earn ten body points first! HOORAY! Good grief, you guys don't even know how many times my Sims got hit by burglars before I lifted this. The Morgans in particular got robbed probably five or six times. Poor Gordon. It was like adding insult to injury.
Also, we have a new baby in the main house! Since this episode and the next are unfortunately light on the kids, let me introduce
Cassie
to you now. She is also named after a
Doctor Who
villain—Lady Cassandra O'Brien, the "last human," who was the villain in 1x02 and 2x01. She will also be the last Fitzhugh to lift a career because once Tristan and Elle are done with theirs, there will only be two left to go!
She's also super cute. <3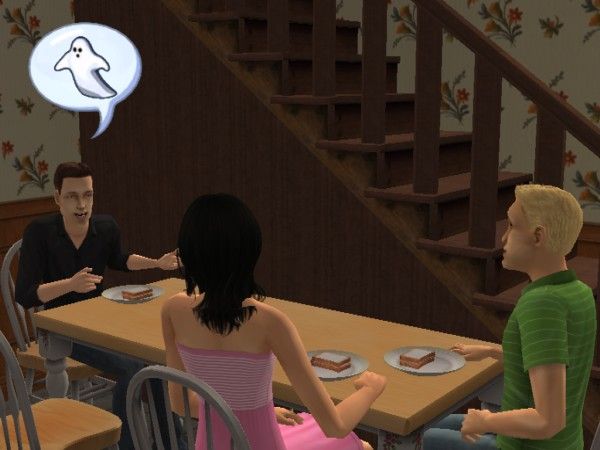 Finally, for those of you who are wondering when Elle and Liam met, I am retconning
this drabble
that Rose and I wrote. There's a specific reason for it, which you'll see the beginnings of next episode. Meanwhile, reading the drabble would be helpful but it's not required—I am not sure the conversation went exactly that way, but the situation is the same.
I could say quite a bit more about this episode, but I'm going to save it, because this arc isn't finished. After Episode 24, it will be. Then you get a meta I've had mostly written since 2009. No, really. :P Cross your fingers for April! We'll see what happens from there.
Until next time, Happy Simming and thanks for reading :)
Guest Sims:
Snow Bohemian (
The Bohemian Legacy
)
Liam Whedon (
A Buffyverse Apocalypse
)